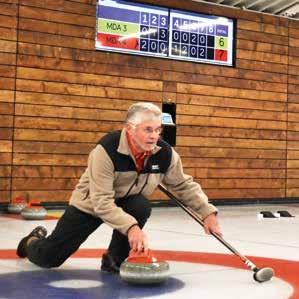 Spend the poor season in good company in a friendly atmosphere !

Indulge yourself with this technical and tactical sport where team spirit and fair play are essential values. Curling can be practiced at any age and is suitable for both women and men. This game with easy rules is similar to boules. It requires a good balance between physique and mindset, and requires concentration, skill and team spirit.
From the age of 50, anyone who has played some curling can join the seniors section (MDA) of our Genève. Friendly atmosphere and fair play lead to pleasant and lively gatherings.
The possibility is also offered to take part in several tournaments.
Depending on the number of participants, introduction courses are given by CC3C Genève or during regular sessions of the seniors section. After introduction, you can join the section for the rest of the season. The participation price is included in the annual subscription to CC3C Genève.
~50 sessions, on Tuesdays and Thursdays from 9 am to 11:30 am, from September to March
Curling Club Trois-Chêne / Genève
Centre Sportif Sous-Moulin
Route de Sous-Moulin 39A
1226 Thônex
Bus from Cornavin train station : 
Line 5 or line 25.
Jean-Pierre Vallon at 079 477 43 70 (does not handle inscriptions)
Mandatory registration with the administration office of MDA-A50+ at 022 329 83 84